November 26, 2011 § Leave a Comment
Regardless of what you think about Kanye West, there is no denying his celebrity or his meteoric rise to fame in the past decade. It's quite possible that, at this point in his career, Kanye is more infamous than anything else, due in large part to certain incidents involving George Bush and Taylor Swift. Some might think he is simply another celebrity with an enormous ego, making vacuous music to garner profit from the masses. However, if we actually consider his music, especially of the past four years, Kanye is quite a complex figure; he is a person with real feelings and real struggles, who, even with all his fame and fortune, seems to be searching for something more in this life.
Beginning with his first album, The College Dropout, Kanye's music has always been deeply personal, highlighted by songs like "Through the Wire" and "Family Business." His next two albums, Late Registration and Graduation, would follow in a similar manner, balancing the personal with typical rap braggadocio, always backed by fascinating beats. This pattern is so irrevocably severed, lyrically and musically, by 808s & Heartbreak that it comes as a shock. It is with this album, an intensely personal reaction to a painful break-up, that Kanye begins to reflect on his fame and celebrity, and his vulnerability and honesty are surprising.
The auto-tuned electronica that comprises the majority of 808s & Heartbreak allows us to see a different side of Kanye. The cocky exterior is gone, replaced by a broken human being, questioning his life. "Welcome to Heartbreak" illustrates this with a certain profundity, as Kanye takes a different perspective on his material possessions than normal: "My friend showed me a picture of his kids/ And all I could show him were pictures of my cribs/ He said his daughter got a brand new report card/ And all I got was a brand new sportscar." This lament is tinged with regret, a common theme throughout an album concerned with lost love.
The song I find the most interesting on this album is "Pinocchio Story," a live freestyle from Toyko, Japan. Kanye repeatedly mentions his desire to be a real boy, wondering if he has missed out on "real life." Once again, he sings about the inability of his possessions to bring him contentment, "There is no clothes that I could buy/ That could turn back the time/ There is no vacation spot I could fly/ That could bring back a piece of real life/ Real life, what does it feel like?" For a hip-hop artist who constantly references his style and material wealth, this is an incredibly candid statement. However, with his next album My Beautiful Dark Twisted Fantasy, Kanye, perhaps in an attempt to drown his sorrows and inner demons, dove headfirst into the deep end of celebrity.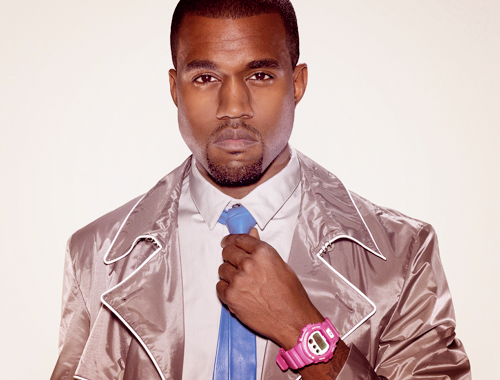 My Beautiful Dark Twisted Fantasy is opulent, reveling in its luxury and gigantic production budget. Filled with A-list guest spots, it nonetheless remains Kanye's show, magnifying his ego and celebrity even as it delves into some of his deepest struggles. Contradictory and profane as it is, My Beautiful Dark Twisted Fantasy reveals the insecurity that still remains in its creator. Pop culture and designer style references abound, the possessions that Kanye hides behind. However, on songs like "Gorgeous" and "Power" he takes aim at those who have made fun of him in the media, offering a harsh defense of himself and his actions. In fact, it seems as if Kanye can't take a joke, as he directs profanity laced rants at those who "tried to black ball" him, South Park writers and the cast of SNL.
Indeed, the end of "Power" hints at suicide, with its coda, "Now this'll be a beautiful death/ I'm jumping out the window/ Letting everything go." Clearly, all of the "power" that Kanye possesses cannot banish his problems. It's very easy to lose these moments of honesty amidst the sheer force of ego that Kanye normally exudes, but they are there to be seen. "Monster" is a hard hitting track with multiple guest stars, where Kanye assumes the title of "motherf—ing monster" as a badge of honor, turning the insult back around on those who have talked about him behind his back.
Kanye's sensitivity seems to be a recurring theme, as "Runaway" and its chorus evidence: "Let's have a toast for the douchebags/ Let's have a toast for the assholes/ Let's have a toast for the scumbags/ Every one of them that I know." Given the multiple times this is repeated and the many different names Kanye gives these people, there seems to be quite a few of them. In many ways, this album is a send-off to the haters, but the vitriolic language disguises something that hearkens back to 808s and that will come into focus on this year's collaborative album with Jay-Z, Watch the Throne.
The last song of My Beautiful Dark Twisted Fantasy, excluding the bizarre outro, offers a note of transition to Watch the Throne. In "Lost in the World," Kanye raps, "Lost in this plastic life/ Let's break out of this fake-ass party/ Turn this into a classic night/ If we die in each other's arms, still get laid in that afterlife," which is followed by a woman's voice singing very clearly, "Run from the lights/ Run from the night/ Run for your life." So, we come full circle, and Kanye is still looking for love, even though he knows that his life and all the parties can't offer him the validation he seeks. He knows he has to run, break free, but he is trapped by other's opinions of him.
Watch the Throne is much less of a personal opus for Kanye, and he seems to be having fun making music with Jay-Z, but issues of insecurity still surface. Now to be sure, Jay-Z has his share of songs where he is dissing others, but they don't carry the same emotion as Kanye's. Even on a peaceful, uplifting track like "Made in America" Kanye can't resist mentioning his haters, "South Park had 'em all laughing/ Now my n—— designing and we all swaggin'/ Ignore the critics just to say we did it/ This ain't no fashion show, motherf——, we live it." In an insightful review of the album, Calum Marsh point out that this is "the second time that Ye's indignantly referred to that good-natured South Park ribbing from, what, two years ago?" Marsh goes on to mention how this shows how even a little joke can have unexpected outcomes in celebrities.
Marsh is right, of course, but Kanye's reaction reveals more than just injured pride; we see ourselves mirrored in his reactions, as we all search for acceptance and love. None of us want to be judged, why should Kanye be an exception? The words he spits on "New Day" are poignant and resonate with me, even though I am a poor, white guy, who can't even imagine the life that Kanye leads. Speaking to a future son, he raps, "See, I want him to have an easy life, not like Yeezy life/ Just want him to be someone people like/ Don't want him to be hated, all the time judged." These few lines speak volumes.
February 15, 2011 § 2 Comments
Seattle is a city most well known for coffee, rain and grunge rock. Recently, however, they have experienced a boom in independent hip hop as artists like The Blue Scholars have been steadily producing high quality hip hop, musically and lyrically. My personal favorite group from Seattle is Common Market. I was turned on to Common Market by Relevant magazine, and I picked up their second full album Tobacco Road. I was met by a plethora of chill beats produced by Dj Sabzi and perfectly strung together words spit by the immense talent of RA Scion.
The first thing you'll notice about Common Market is the intelligence that they bring to hip hop. Scion's lyrics are a melting pot of story and biography, and his raps are an adventurous romp through an array of expertly delivered vocabulary words that make up a truly unique hip hop experience. Both members of Common Market are Baha'i, a faith that values nonviolence and peaceful treatment of others, and this spiritual and political bent shows through in their lyrics. We're going to take a look at some of their music to highlight their positive contributions to hip hop.
Their first album Common Market is packed full of songs that are full of a driving energy with real hope behind it that seems to suggest that we can band together to make things better. On Every Last One Scion spits:
It's our intent to re-implement modesty/Demandin' self-respect be the market's hottest commodity/Regulate the wealth and decimate extreme poverty/and educate kids with every dollar from the lottery/We 'bout to change the mentality/of old world savagery into a new reality/One where teachers and lawyers will change salaries/and liquor stores are razed to make way for art galleries…
This is not your average radio hip hop. This is two dudes, passionate about changing the way we think about the world and encouraging us to think about how we can actually make a change. Later on in the album on Love One, over a soulful beat from Sabzi, Scion raps about the women in his life: his mom, sister, wife and daughter. It's a beautiful song that celebrates everything good about femininity and shows that Common Market's approach to women is not formed by the prevailing view of the hip hop genre.
After their first album, filled with many more songs like those I highlighted above, Common Market released an EP before dropping Tobacco Road. Tobacco Road is a stunning album, dripping with soul, Scion's lyrics perfectly complemented by Sabzi's production. The album bursts out of the doors with Trouble Is, but it is the second song Gol'Dust that captures my attention immediately. The song is a exemplary look at greed and the many ways it influences our daily lives. My favorite lines come at the end of the song: "And what's a legacy worth next to mined metal, yo/Measure me first–depression, it's better we work/For change, not for pennies, if anything the commodity traded is us for flakes of gold dust."
Tobacco Road is an album concerned with the way in which we work, the affects of industrialization and, ultimately, the way we live our lives. Nina Sing touches on poverty and societal inequality in work and economic conditions. The final verse is a perfect example: "Seein' fam fallin' through the cracks in the variance/Famished on a barren land of AIDS and malaria/One percent could fix it with a tenth of their inheritance/Freedom buried in the treasure chest of the nefarious." Regardless of whether or not you agree with their conclusions, there is no doubt that Common Market is exploring important territory with a level of maturity and verbosity that should be respected. The album concludes with the title track, an homage to Tobacco Road in Kentucky, which also offers up a introspective look on growing up and leaving home. "Mindful of the nights in that state, who they say life is what you make it/When really life is what makes you…The schools failed me, thank God the farm taught me/The value of a calloused hand, how to work and plow this land/How even a modest crop will make your pop the proudest man."
Common Market is a independent hip hop group that is not afraid to tackle big issues and they do it in an intellectual, effective way. Their songs are loaded with words and ideas that are available for anyone who is willing to listen. Positive and socially conscious, Common Market is making great music with a worthwhile message.